Expressing Heritage: Transcending People & Time (Temenggong-SG-Creatives 2022)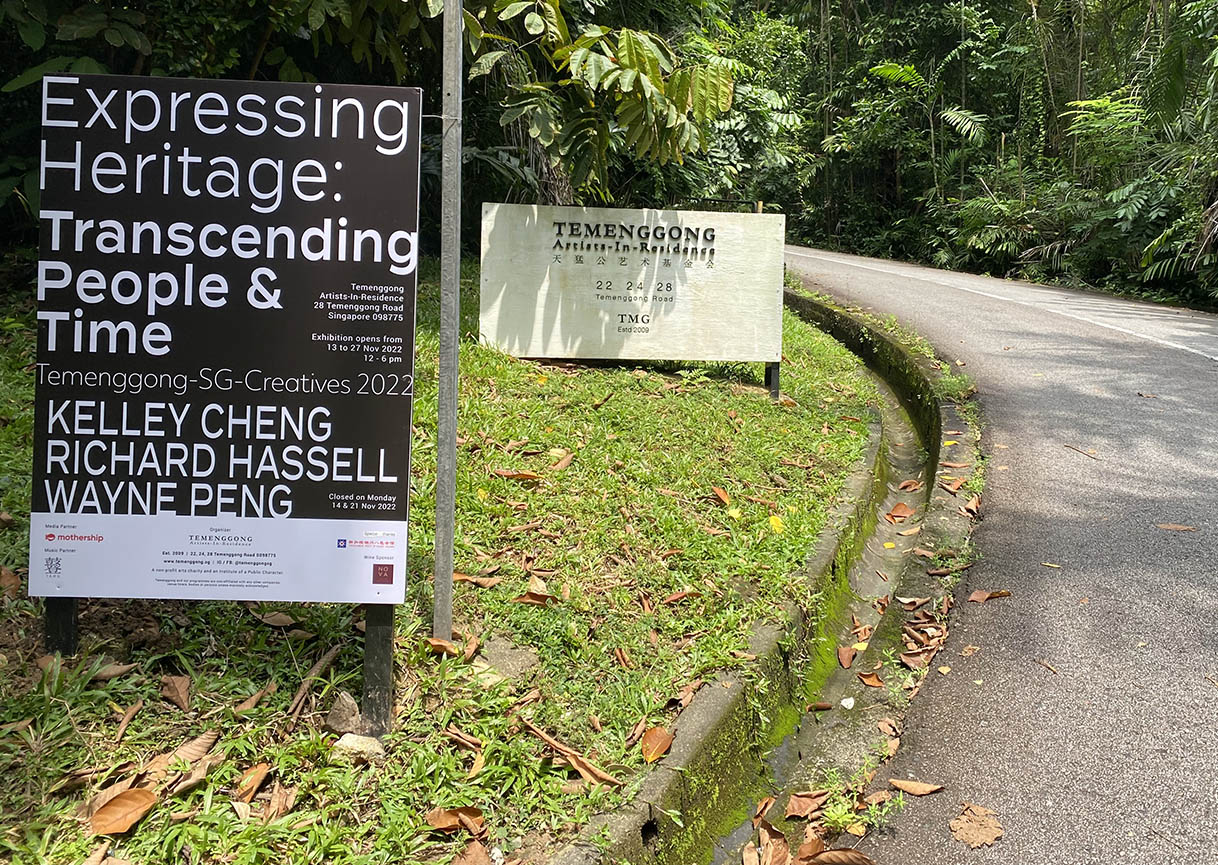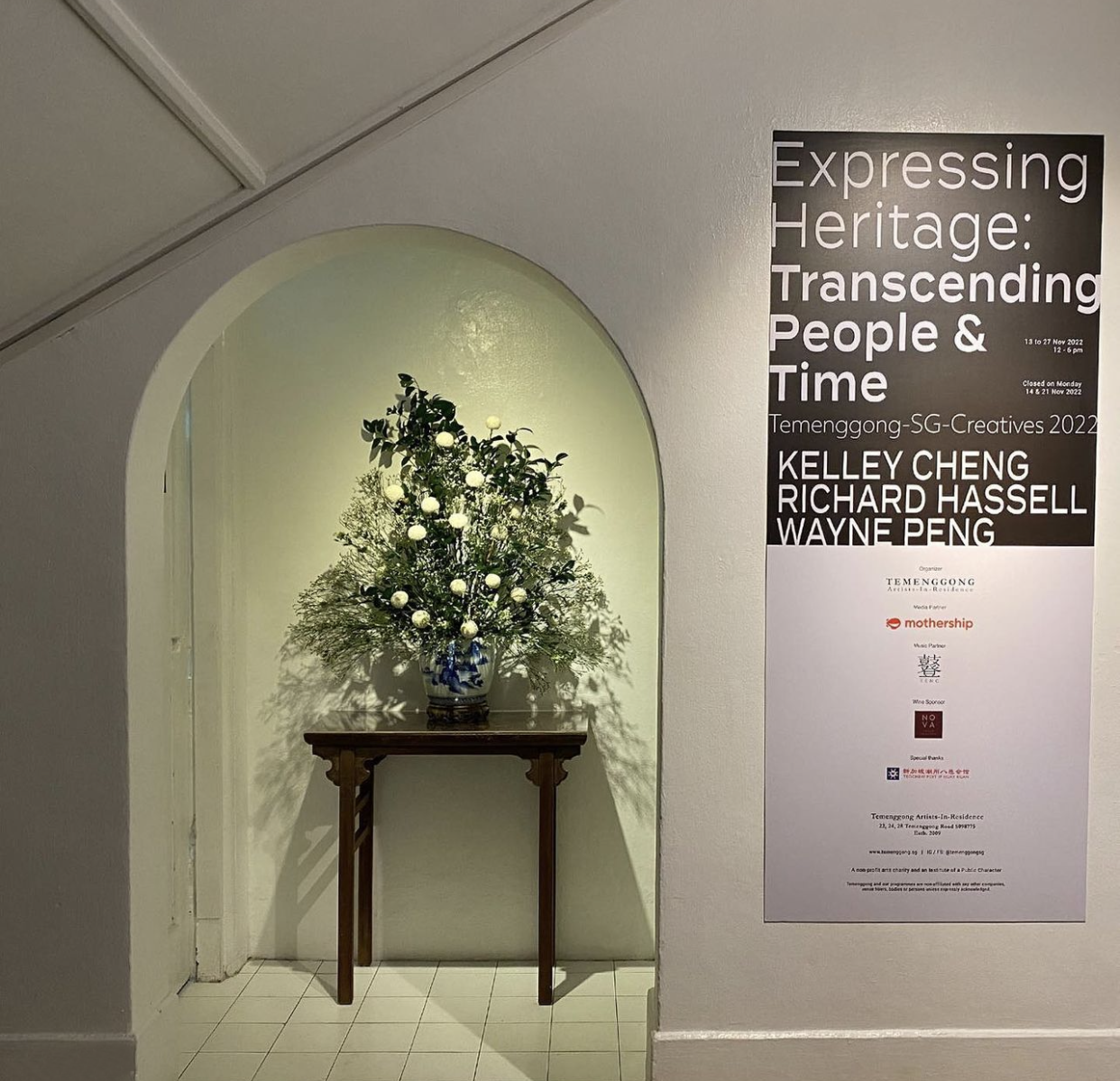 Temenggong-SG-Creatives 2022
Expressing Heritage: Transcending People & Time
About the Artists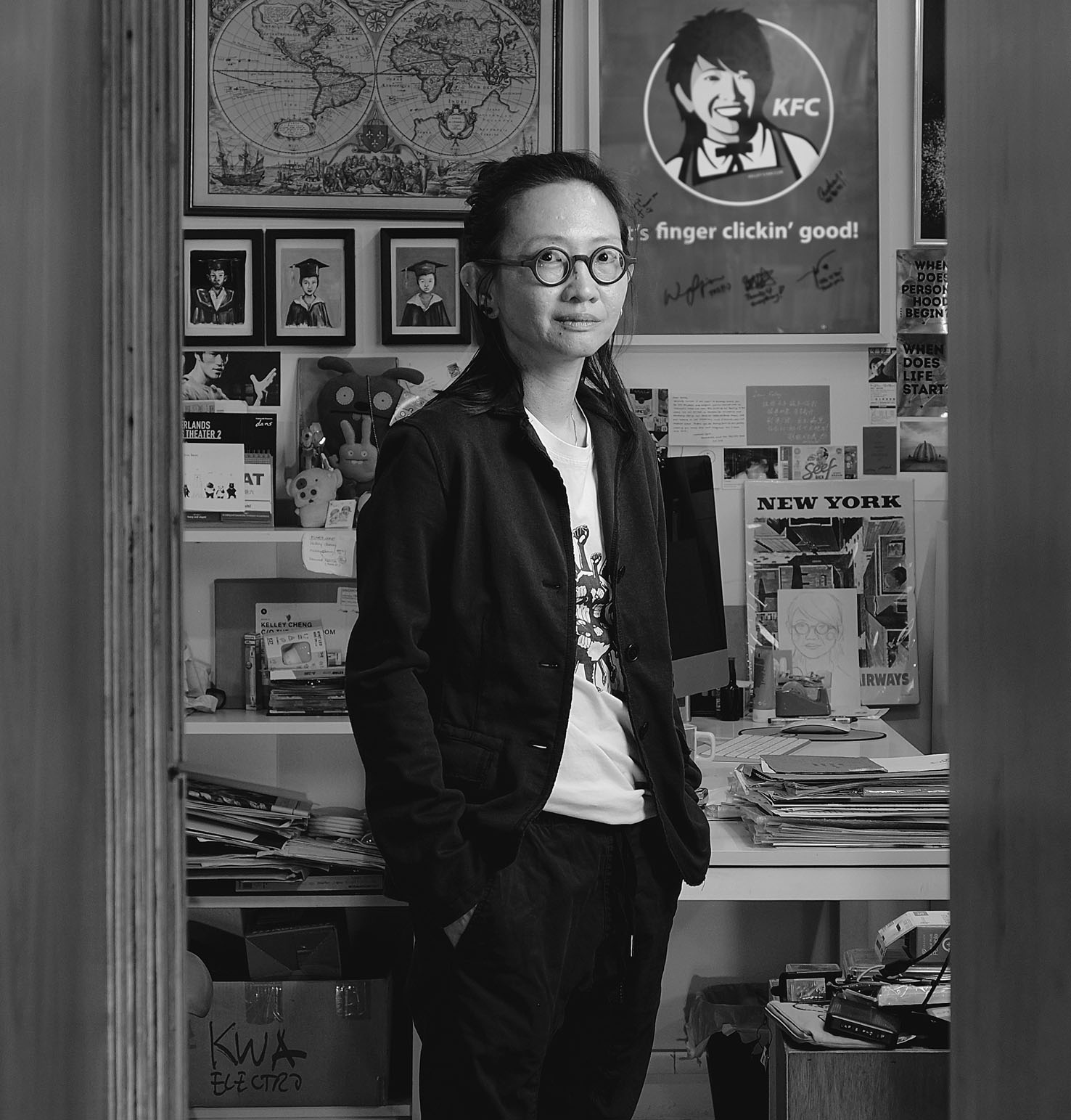 Kelley Cheng 钟瑞林 (B. 1972)
Kelley Cheng is a modern day polymath who has immersed herself in the roles of editor, writer, curator, spatial designer, graphic designer, video director, interactive designer, and educator. Trained as an architect, she is the founder and creative director of design studio The Press Room, a publishing & design consultancy that designs everything from books, brands, products, exhibitions and spaces, to stage and film set design. From F&B businesses to an art gallery, her "creations" are diverse and unpredictable. An active educator, she has served as adjunct lecturer in Nanyang Technological University, Glasgow School of Art Singapore, National University of Singapore, and LaSalle College of the Arts, and is a visiting professor at the HangZhou Academy of Art. Kelley is also a frequent name in international design judging panels including Red Dot Awards, Nagoya-Do!, Design for Asia Award, Creative Circle Award, James Dyson Award, etc. Kelley was celebrated as one of 2009 Great Women of Our Time and one of the 50 Most Inspirational Women 2010 in Singapore. In 2019, the National Design Centre presented her 20-year retrospective exhibition "Proportion & Emotion: 20 years in Design with Kelley Cheng" as part of a series celebrating the acclaimed veterans of the Singapore design industry, and in 2020 she was conferred the SkillsFuture Fellowship and the prestigious President's Design Award "Designer of the Year 2020", both presented by the President of Singapore.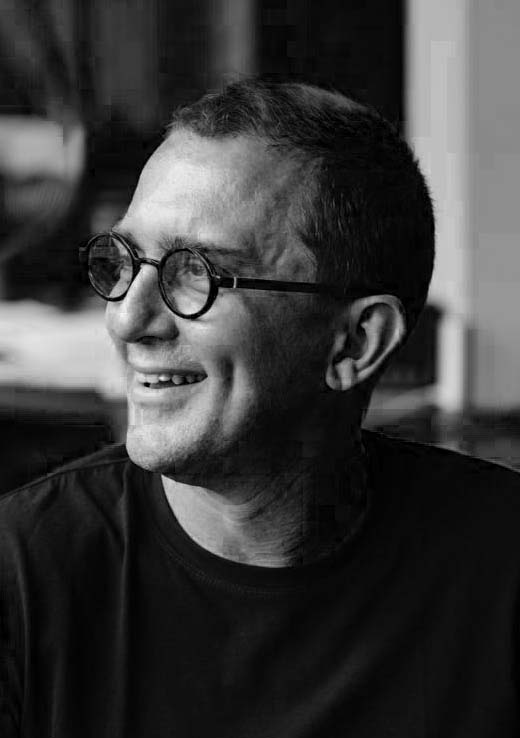 Richard Hassell (B. 1966)
Richard Hassell is an Australian-born architect and artist who has lived in Singapore since 1989. He founded the architectural practice WOHA with Wong Mun Summ in 1994 while continuing a lifelong art practice. Richard's art practice overlaps with the architectural practice; the exploration of complex geometries and tiling, including tessellations has resulted in major building façade art installations. Richard also works in drawing and painting and has recently become interested in "Poetic Topography" the depiction of spaces and landscapes mediated through research, memory, culture, and imagination. His first solo art exhibition was held at Arndt Fine Art, Singapore in 2016. Richard's art has been shown at the ArtScience Museum Singapore, in Italy at the StadtGalerie Galleria Civica of Brixen/ Bressanone and the PAN – Palazzo delle Arti in Naples, in Portugal, at the Lisboa Museu da Arte Popular, in Spain at the Palacio de Gaviria, Madrid and at the Museu Maritim in Barcelona,in USA at the Deland Museum of Art and the Waterfall Gallery in New York. Richard's second solo show,Emergent Nets: Optical Sutras opened in Taipei,Taiwan at Gallery Sun in October to November 2018. In 2019 the third solo show opened in Taichung January 2019. A fourth show was held in May 2021 at Hsinchu,Taiwan. Hassell's works are in private and corporate collections in the United States, United Kingdom, Italy,New Zealand,Australia,Indonesia,India, Taiwan, Hong Kong and Singapore,and in the University of Queensland and Australian National University collection.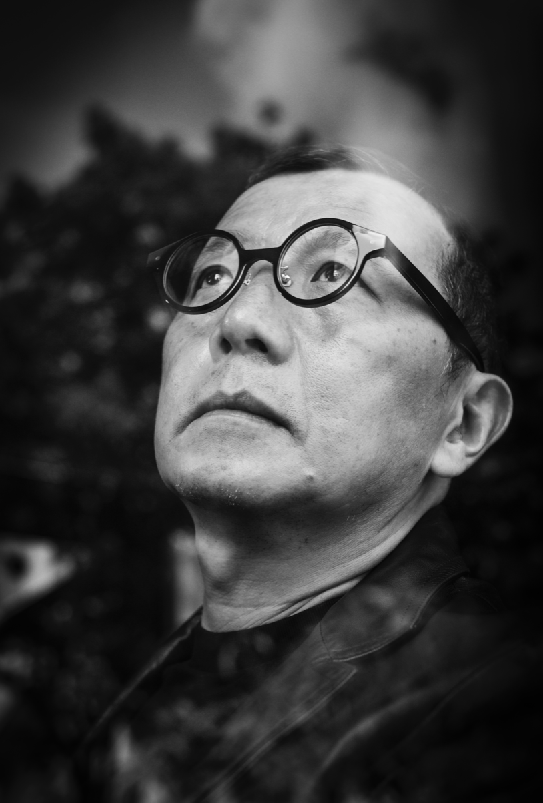 Wayne Peng 彭文淳 (B. 1964)
Wayne attended Chinese Culture University in Taipei, from which he graduated with a degree (1986) in English. Following two years of compulsory military service in Air Force, he started working on film set as a junior grip before directing numerous low-budget music videos and eventually high-profile TV commercials. He is a renowned, award-winner commercial director with a long list of projects produced around the Asia region since the mid-90s. He was ranked No.14 for the most awarded directors in the world in 1999 according to the authoritative industry magazine Gunn Report. The docu-drama Burning Dreams (2003) is his first incursion into drama, a sentimental portrayal of a Shanghai school for jazz dance, its dreams adn dreamers, beautifully shot in black and white, which premiered to great reviews in twelve international festivals in 2003 and 2004, including Amsterdam International Documentary Film Festival, Busan International Film Festival, and Vancouver International Film Festival. Burning Dreams was also nominated for the Best Documentary in Taiwan's prestigious Golden Horse Awards in 2003, and Wayne Peng won Best New Director in Chinese New Media Awards in 2005. He has become a permanent resident of Singapore since 2011. In 2020, Wayne was nominated for Best Cinematography for the movie "Precious Is the Night", which he directed and DP'ed, in Taiwan's Golden Horse Awards in 2020.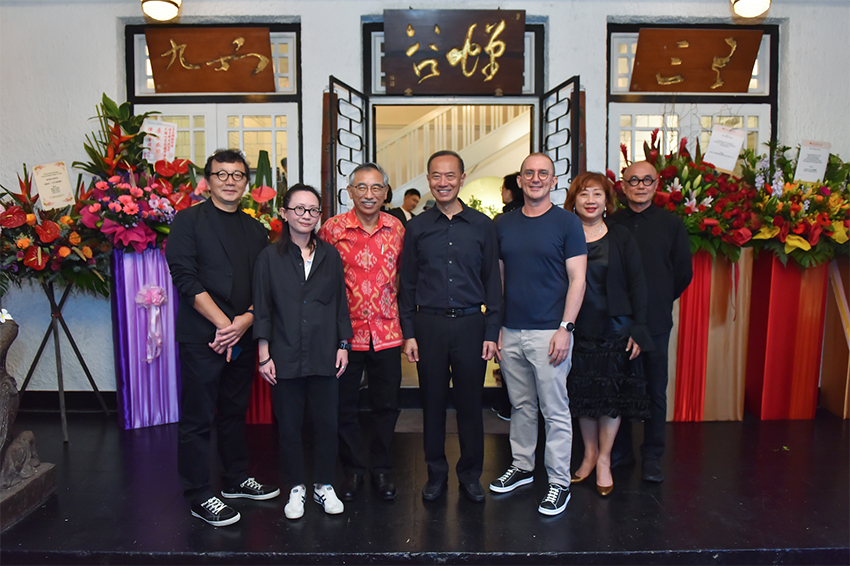 (From left) Artists Wayne Peng & Kelley Cheng, Temenggong Board Director Professor Kwok Kian Woon, Guest of Honour Mr George Yeo, Patron of Temenggong, Artist Richard Hassell, Museum consultant and art historian Lee Chor Lin, and Board Director, Chen KeZhan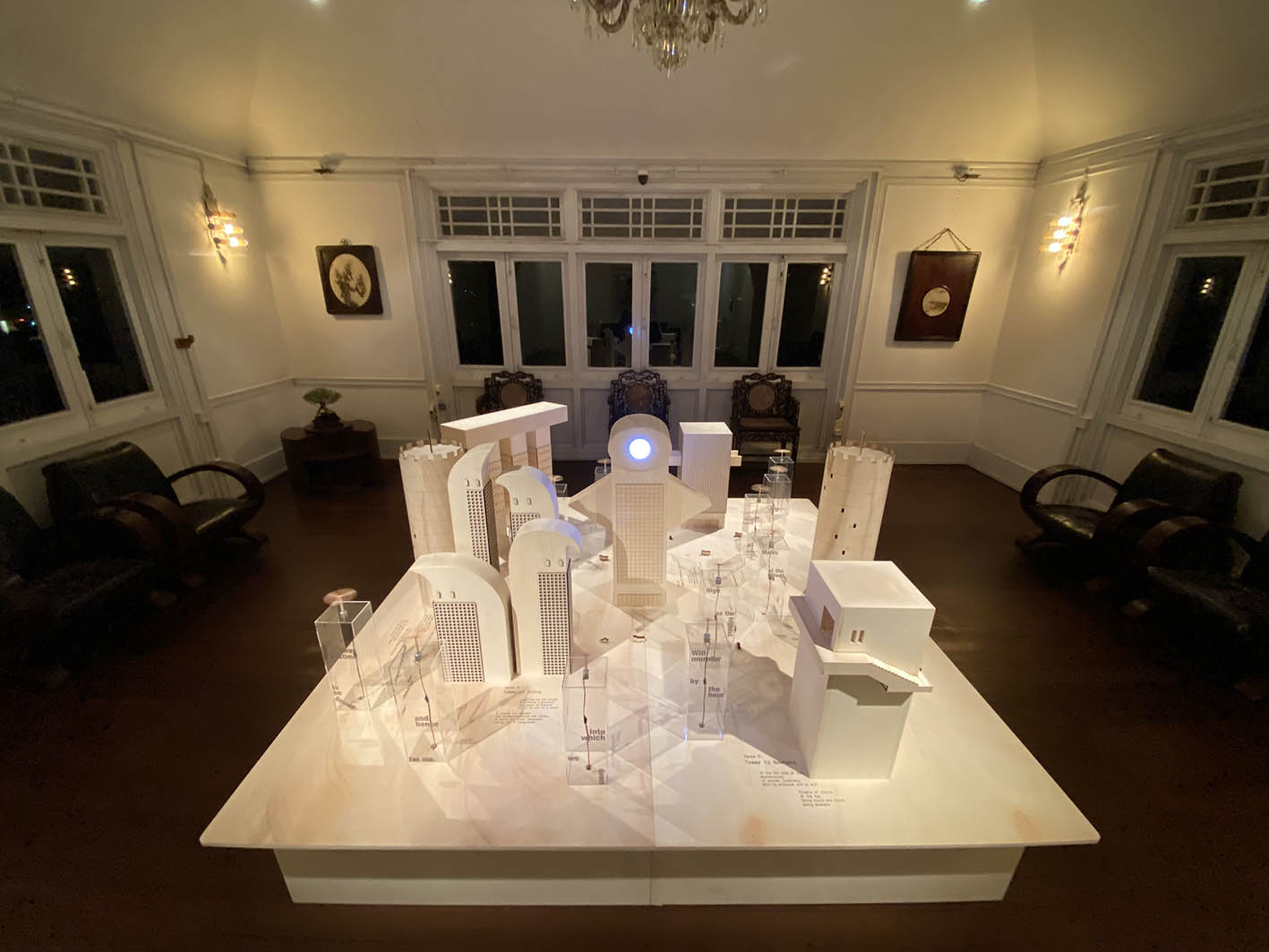 Kelley Cheng 钟瑞林
City of Embong: The Prose of Counterinsurgency 
2022
Laser-engraved on router-cut plywood,
UV-printed acrylic, DC motor with plywood blades
Various sizes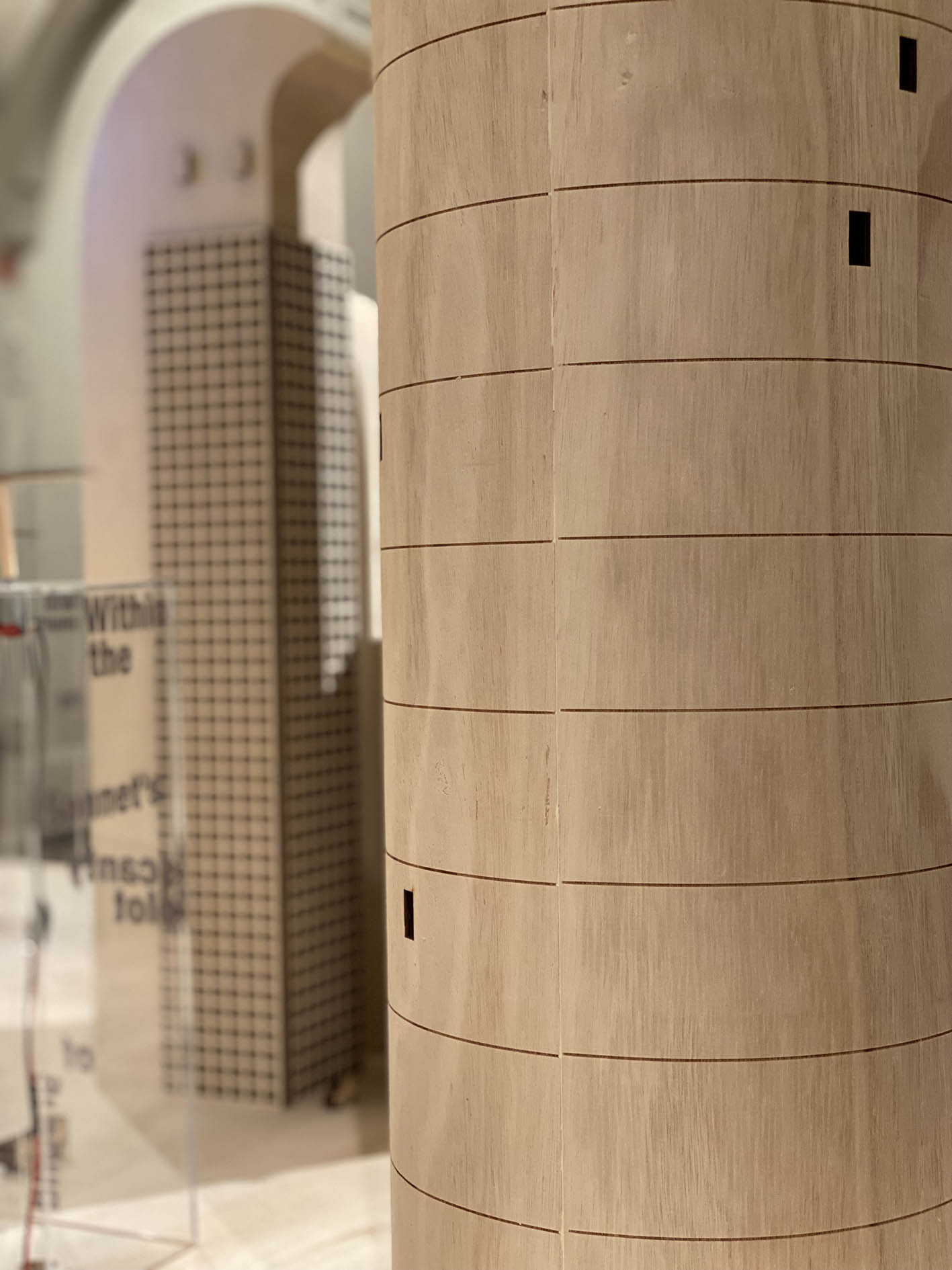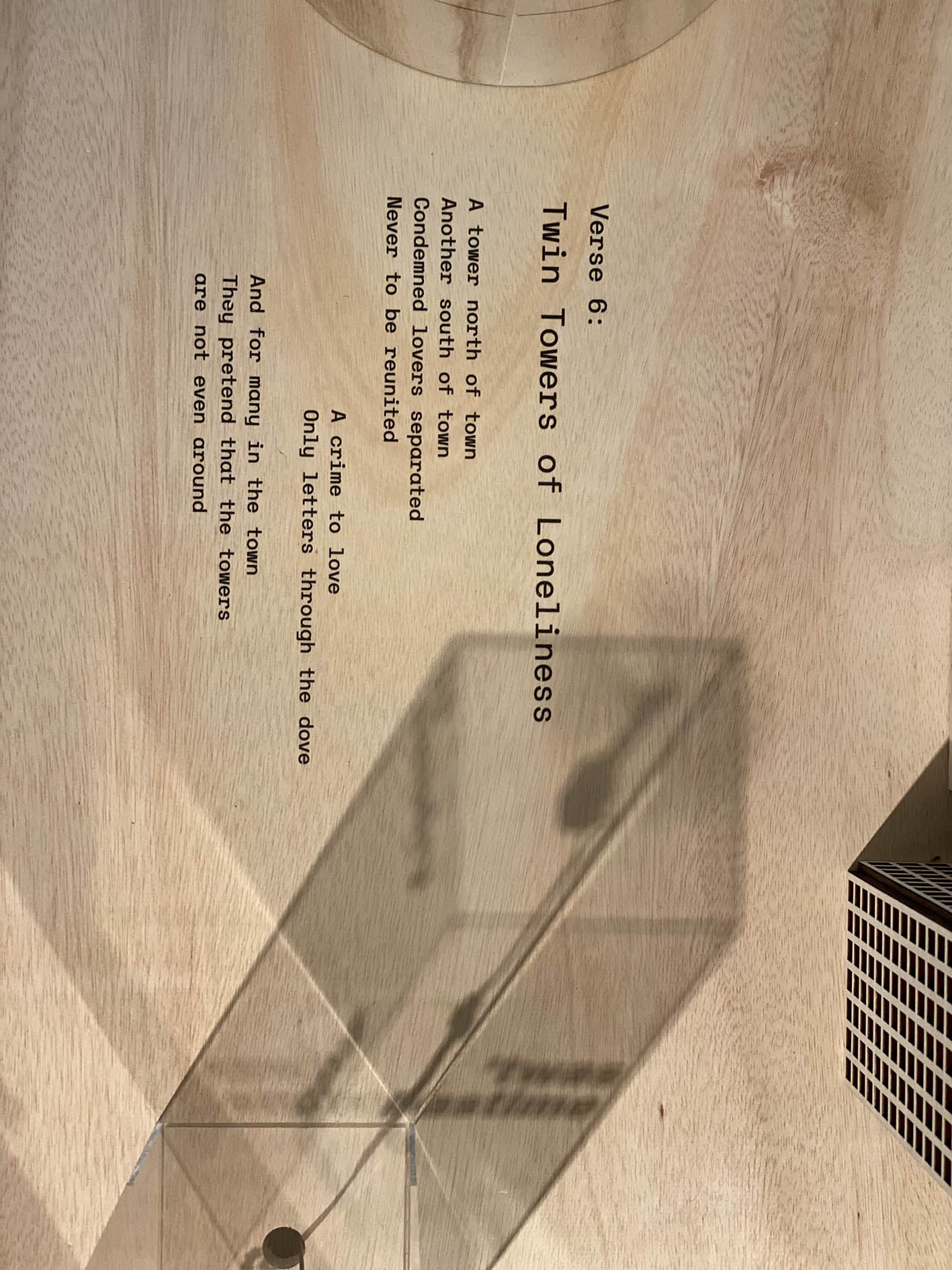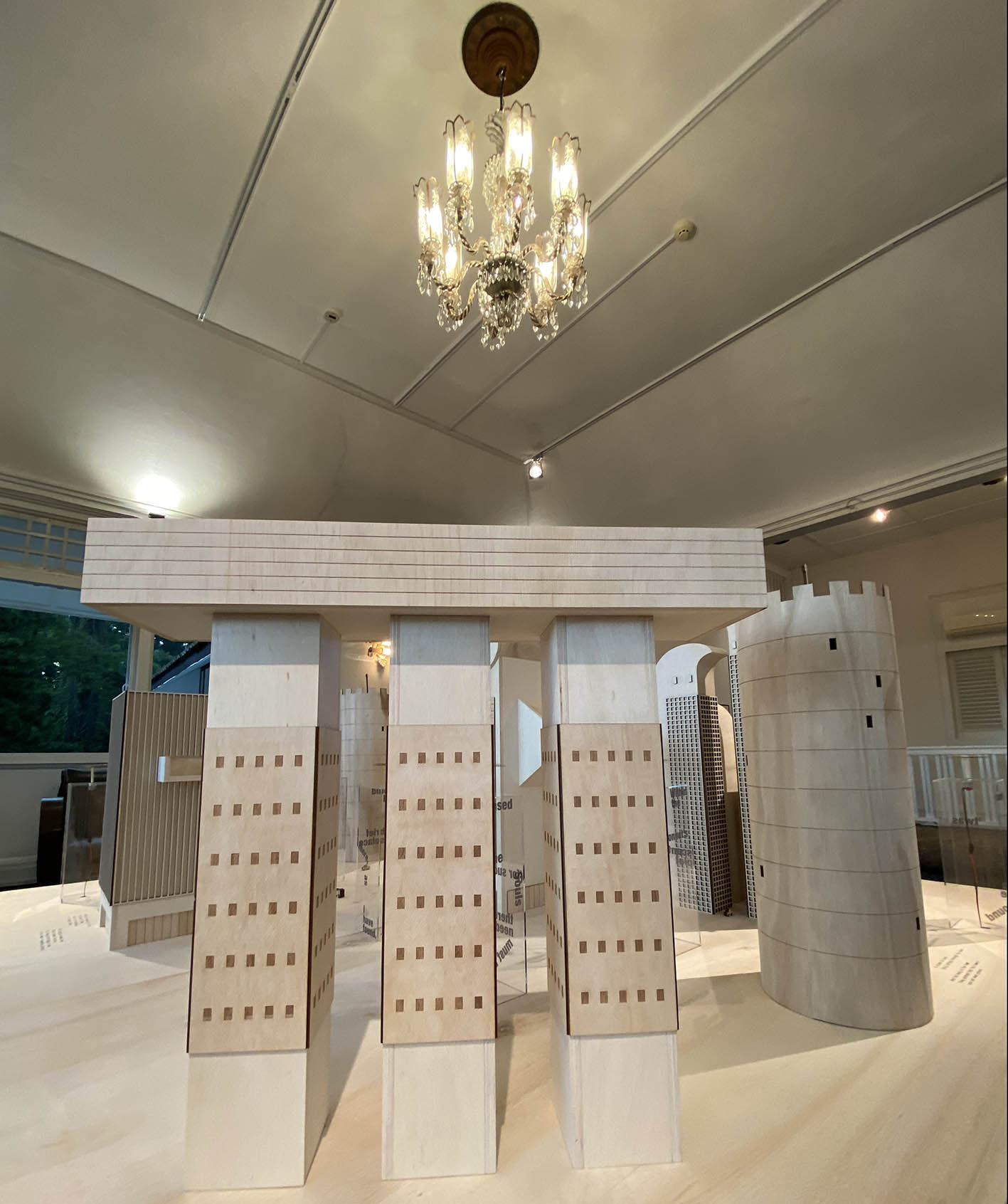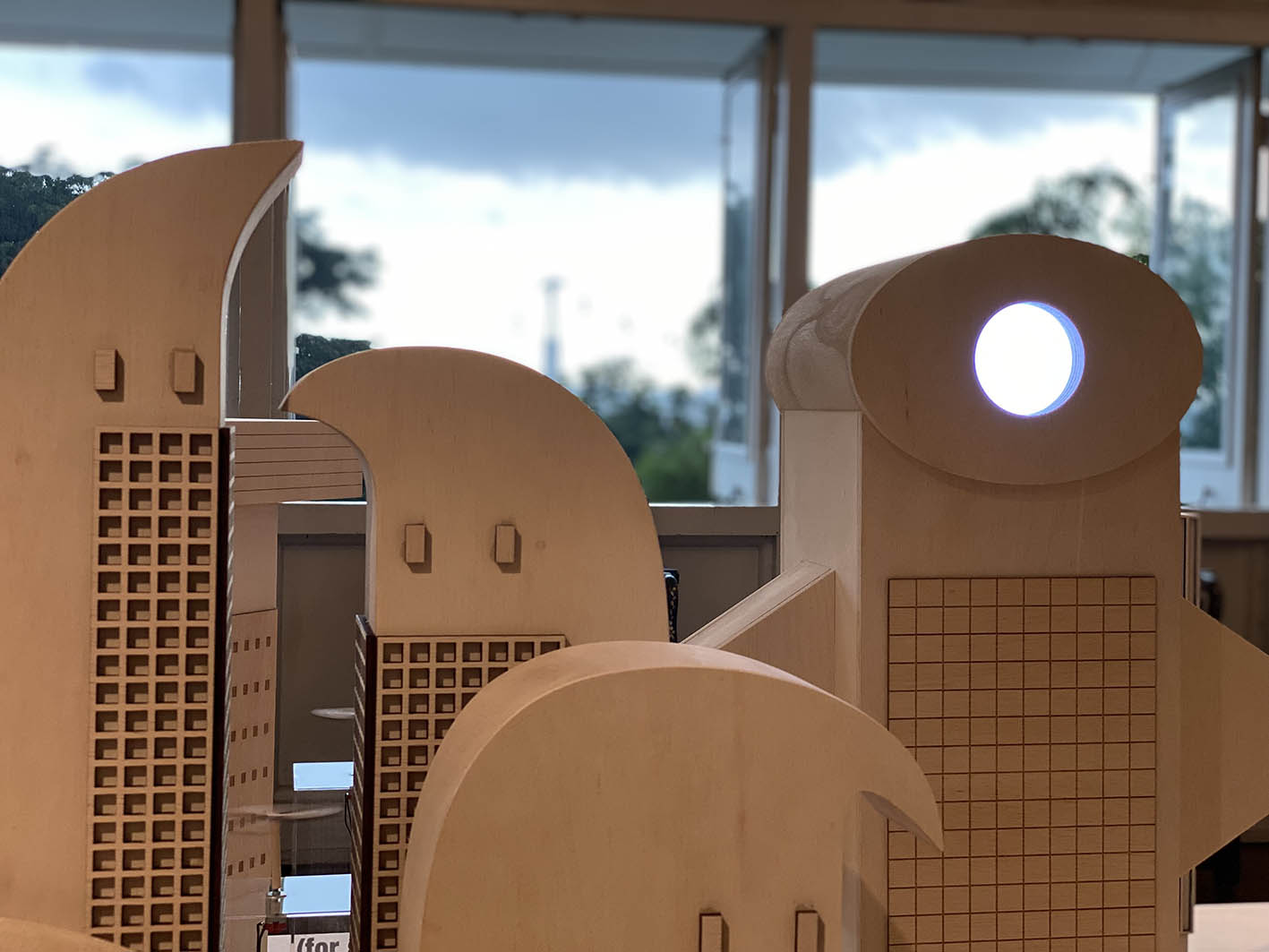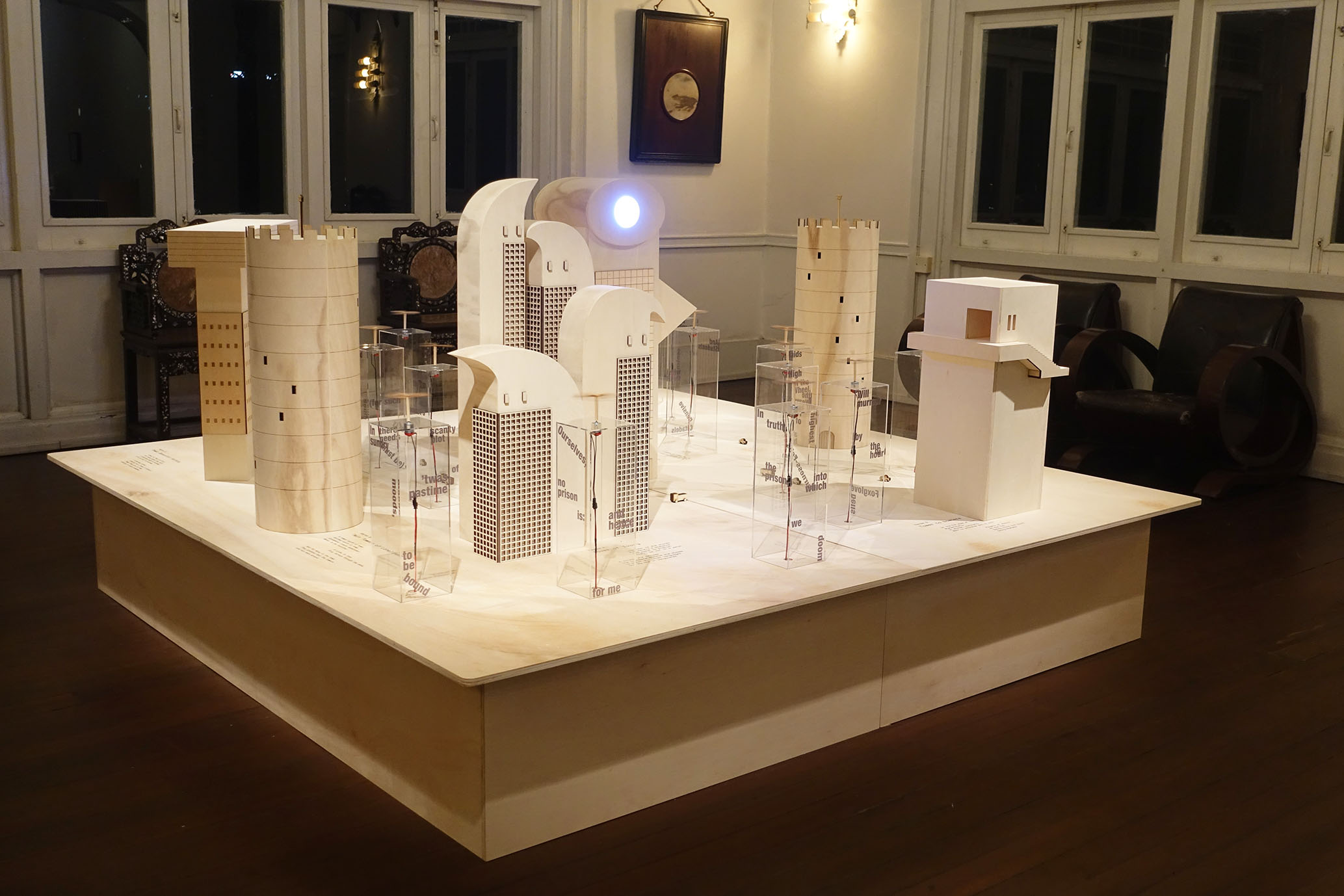 City of Embong: The Prose of Counterinsurgency
by Kelley Cheng
"The city, however, does not tell its past, but contains it like the lines of a hand, written in the corners of the streets, the gratings of the windows, the bannisters of the steps, the antennae of the lightning rods, the poles of the flags, every segment marked in turn with scratches, indentations, scrolls."
– taken from Chapter 1 (Cites and Memory) of "Invisible Cities" by Italo Calvino, 1972
Inspired by the book "Invisible Cities" by Italo Calvino, the City of Embong is a humorous imagination of the 56th City as an addition to the 55 fictitious cities in the book, each city the name of a woman. Adhering to the rules of the mathematical matrix of the Oulipo literary group which Calvino subscribed to, and keeping the City of Baucis as the central point for the symmetry, an additional sub-chapter has to be added to the 1st and last chapter – hence City of Embong will take these 2 themes to begin and end the matrix of cities using the book's numerical pattern. In this manner, City of Embong takes on both the status of being City of Memory and a Hidden City at the same time.
City of Embong runs on a non-linear timeline that creates fiction within fiction – combining real lines from "Invisible Cities" amidst made-up lines by the artist – using Marco Polo as the mouthpiece and protagonist of the story, relating tales of Embong to Kublai Khan, vacillating between old memories and future memories, the hidden and non-hidden realities of the city. The imaginary city created is at the intersection of art, architecture and writing.
To describe the City of Embong, Marco Polo told Kublai Khan, "Great hearted Kublai, may I relate to you this City of Embong," Polo recounted, "it is a little like the island Chiamasssie1 but unlike Chiamassie, Embong is under a strange British Lord. Before this, I had known only of Rajas and Sultans in the region, but now Embong is ruled by Majors and Sirs. I must say, it is rather confusing for the Embong locals which god they are serving now."
"Five towers and two castles flanked the city, and 14 glass houses stood in the mix, with happy people who dislike stones. I would not be telling you the truest character of Embong, for it is a city you have to experience for yourself as the present-day Towers of Babel. And you must know the name "Babel" came from a Hebrew verb that means to jumble or to confuse."
When Marco Polo first presented each city after his mission to the Great Khan, he was unable to speak the language and the clever Venetian created another form of communication by using an emblem that embodies the spirit of the city, from which the Great Khan will decipher from. Before Polo was able to describe in words the City of Embong, he presented the Great Khan a Rolex watch as an emblem, which for the first time the emperor was confused and thought it was a gift from the charming Venetian.
But when Marco Polo eventually mastered the Tartar language and the national idioms and national dialects of Mongolia, he was finally able to present the City of Embong to the Emperor in words, but in true metaphoric fashion as the emblems, the Venetian presented six prose poems for the emperor to decipher.
"On the day when I know all the Emblems," the Great Khan asked Marco, "shall I be able to possess my empire, at last?"2
And the Venetian answered, "Sire, do not believe it. On the day you will be an emblem among emblems."3
Notes:
Temasek is described in the account by the Chinese traveller Wang Dayuan who visited the island around 1330 and wrote about a Malaysettlement called Danmaxi, a transcription of the name Temasek. In a version of Marco Polo's account of his travel, a place named Chiamassie that could be Temasik was mentioned in relation to the island kingdom of Malayur. (Taken from Wikipedia about "Temasek")
Line taken from Invisible Cities by Italo Calvino, p.22
Line take from Invisible Cities by Italo Calvino, p.23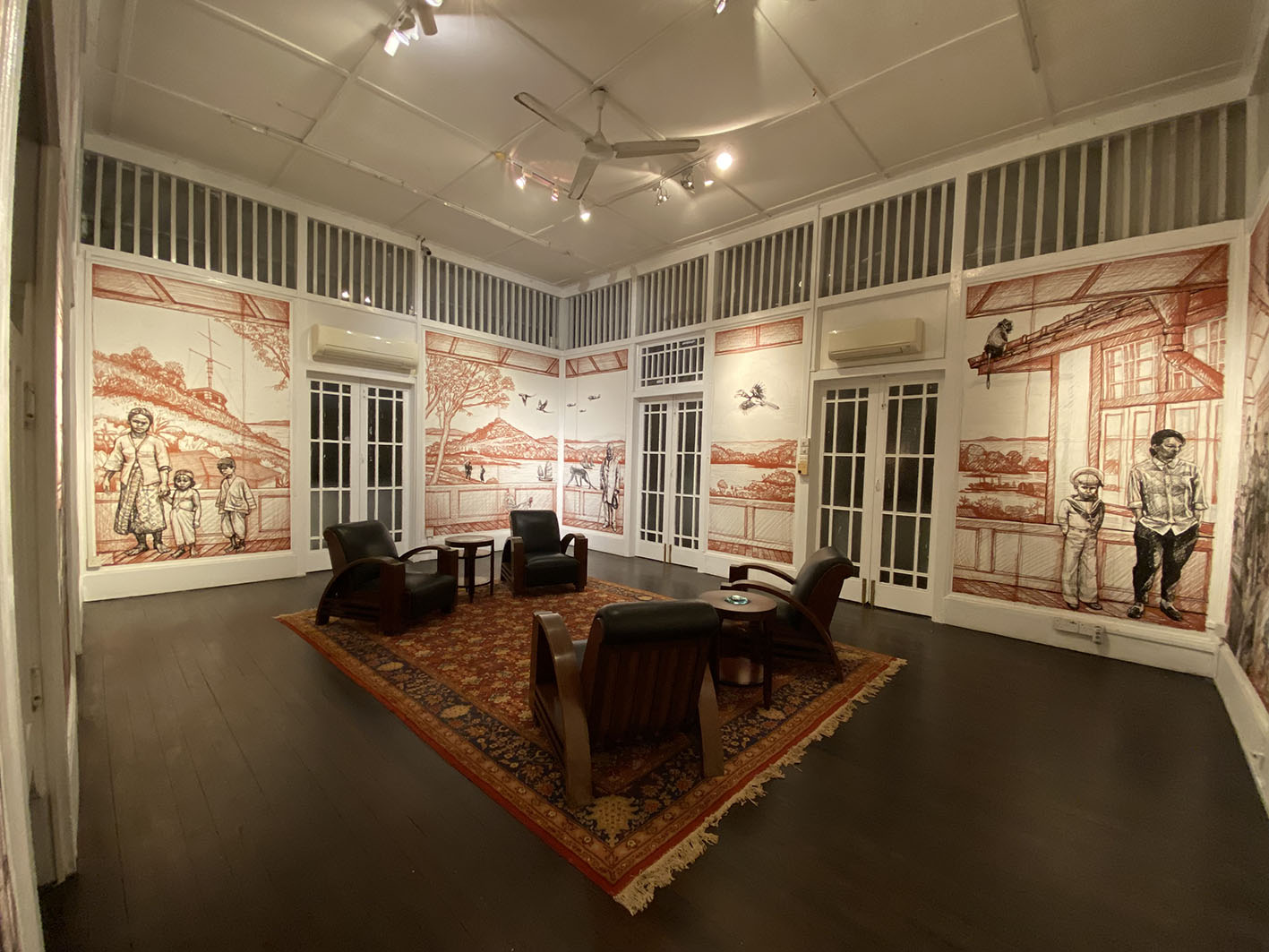 Richard Hassell
In Camera
2022
15 panels of pigment ink print on Awagami kobo paper
0.45 – 1.1 m wide x 2.68 m high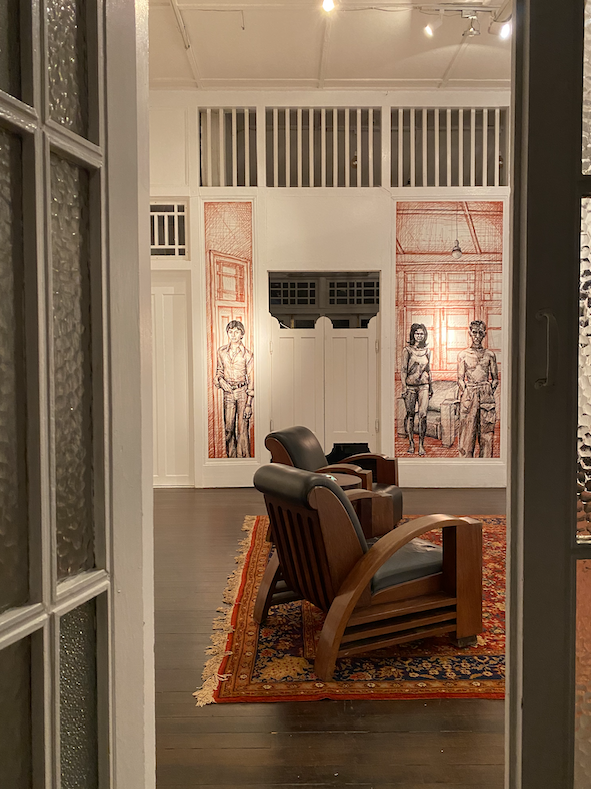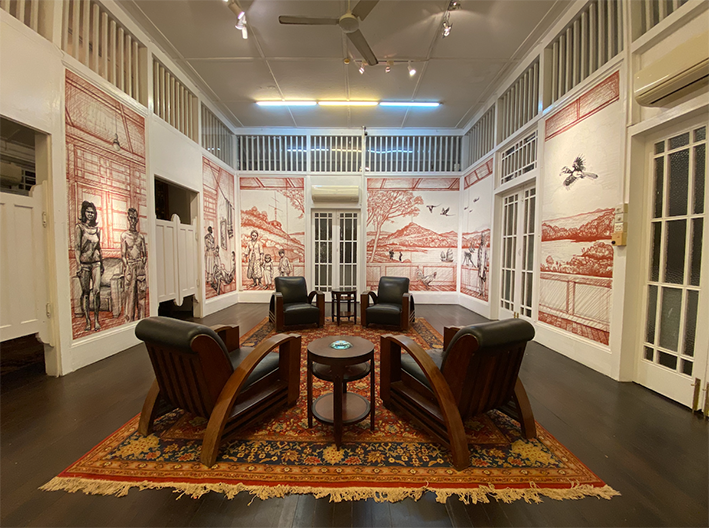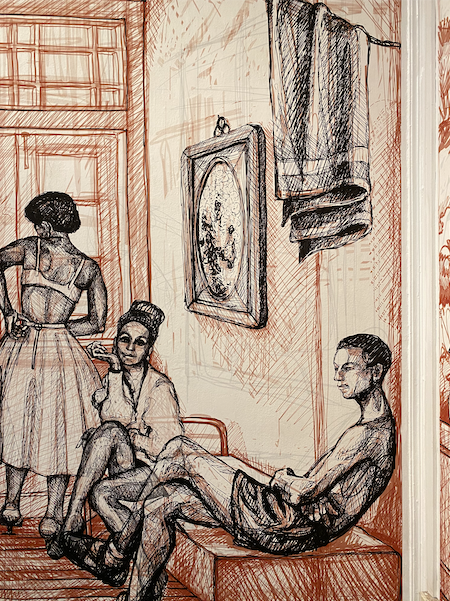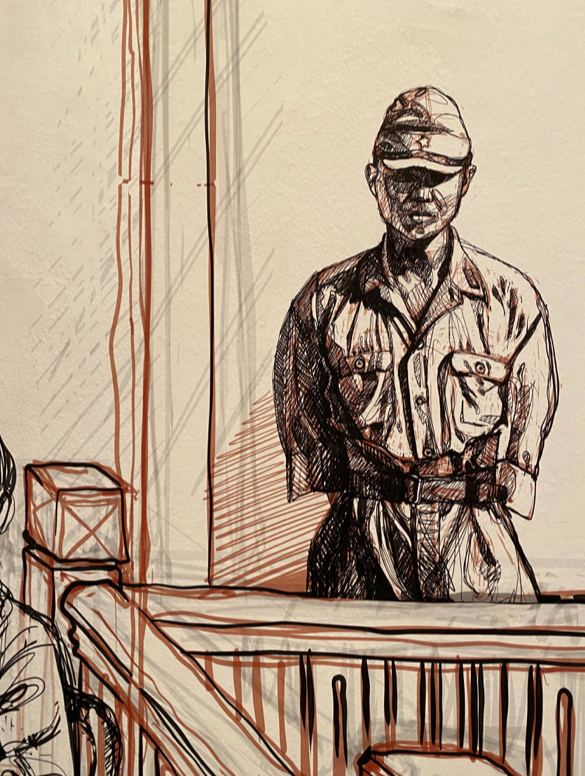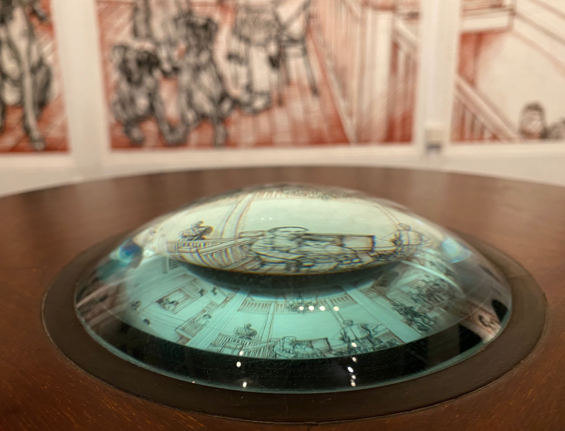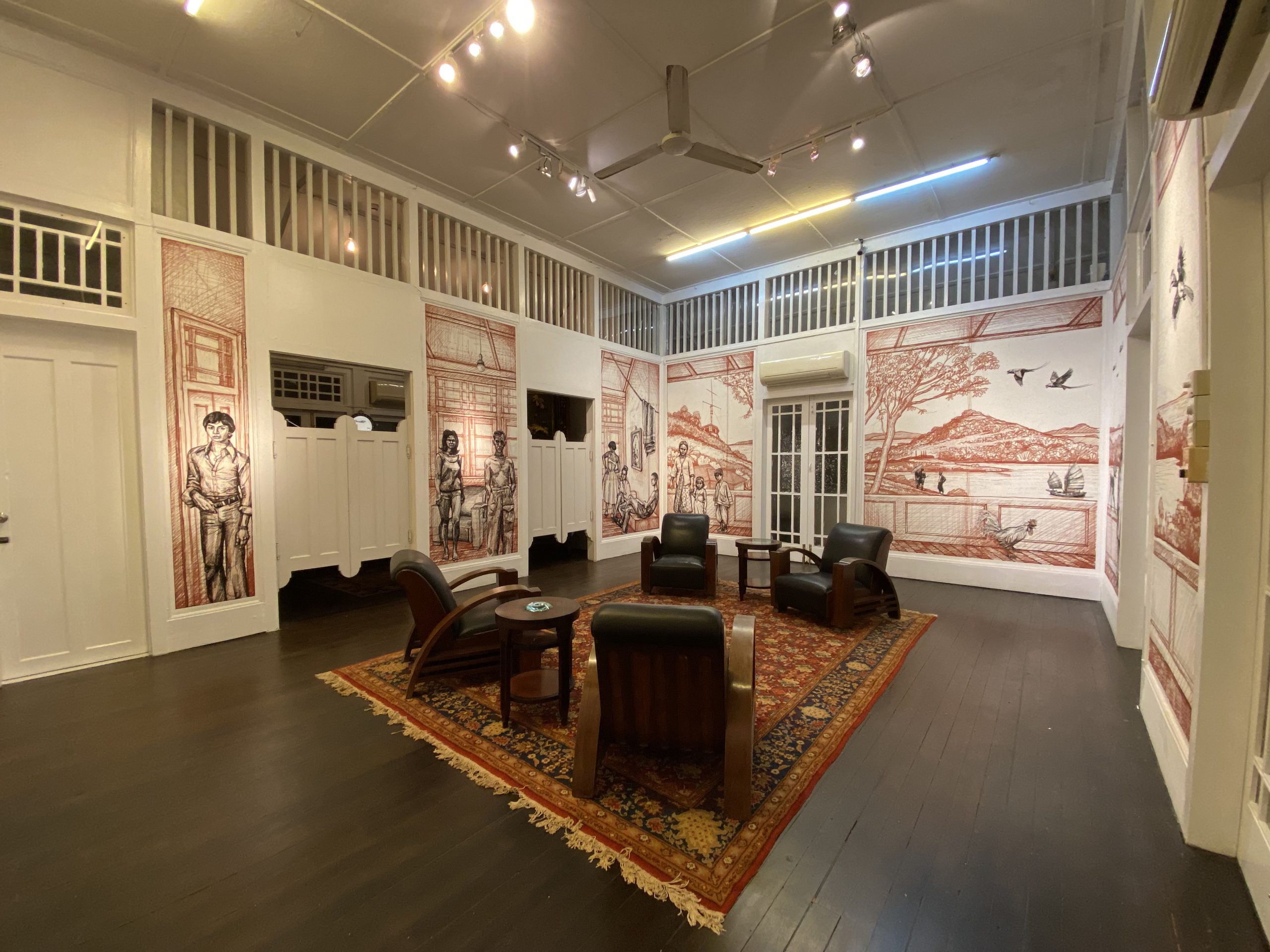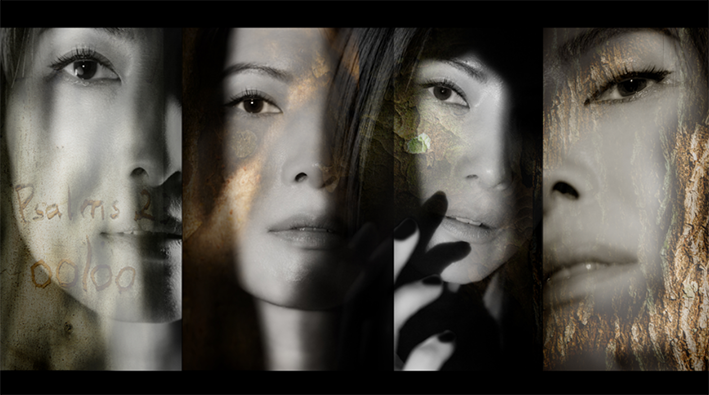 Wayne Peng 彭文淳
Trichotomia Inscribed 入木三分
Portraits in chroma
2022
Portrait photography series on video mapping projection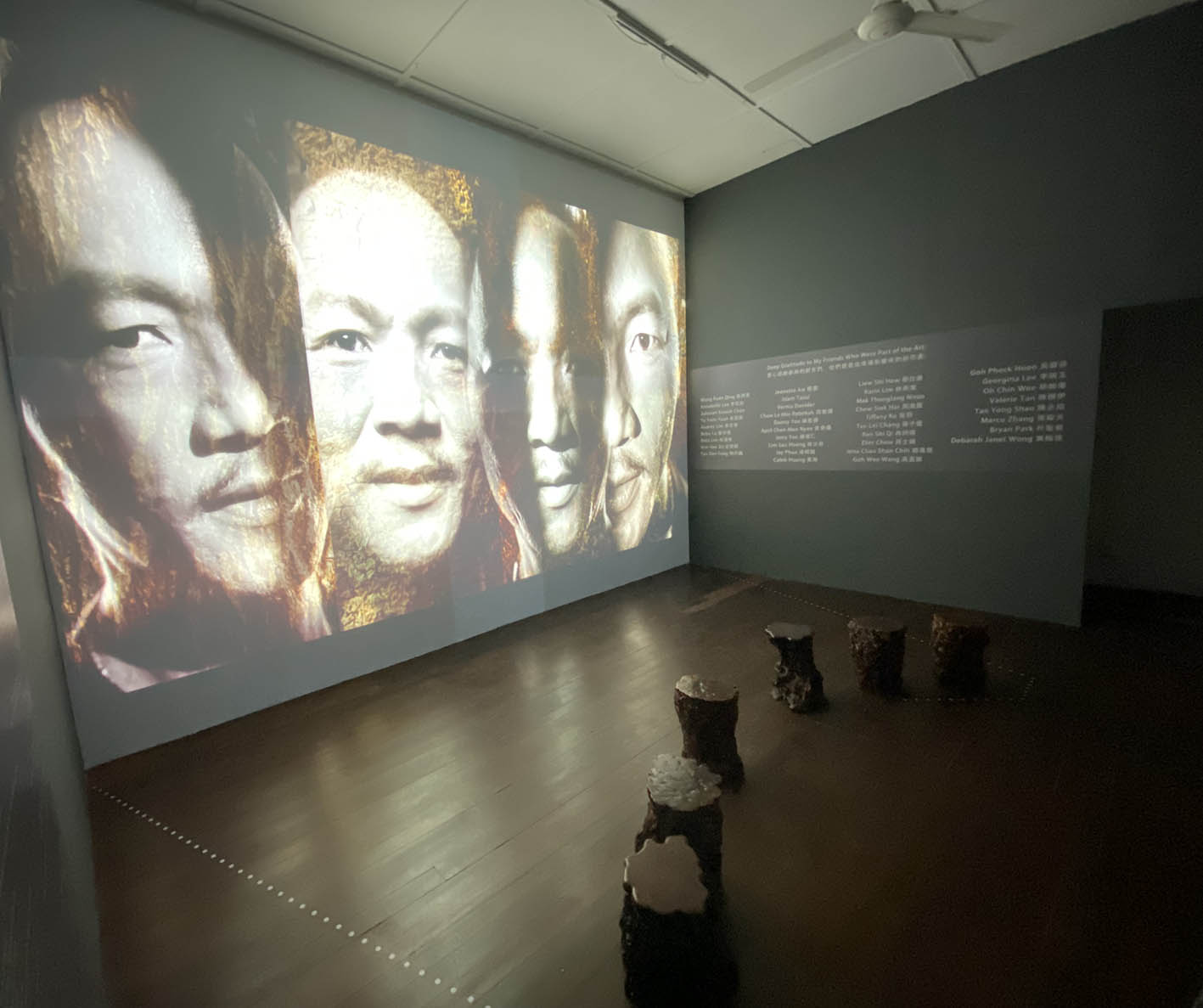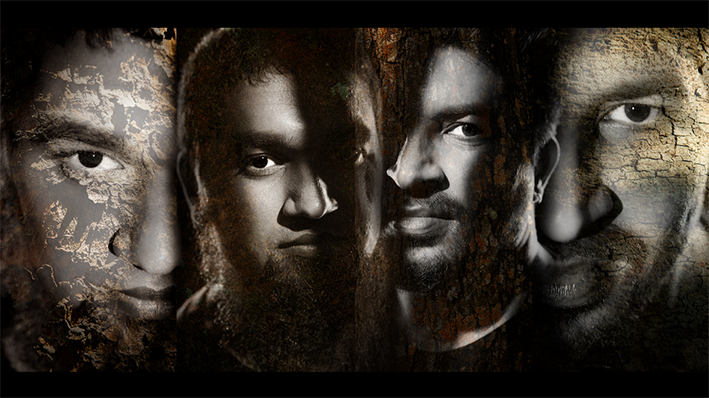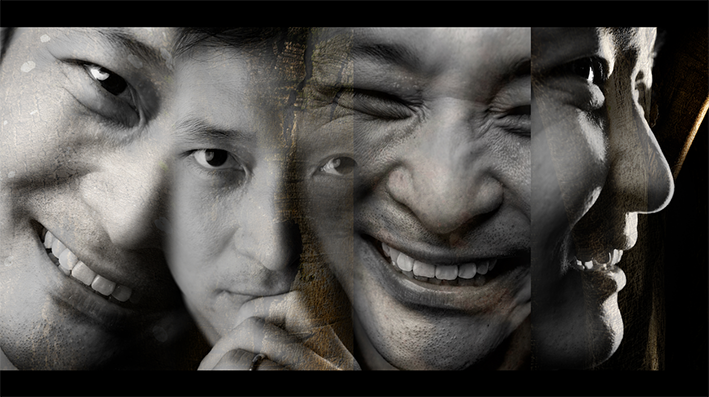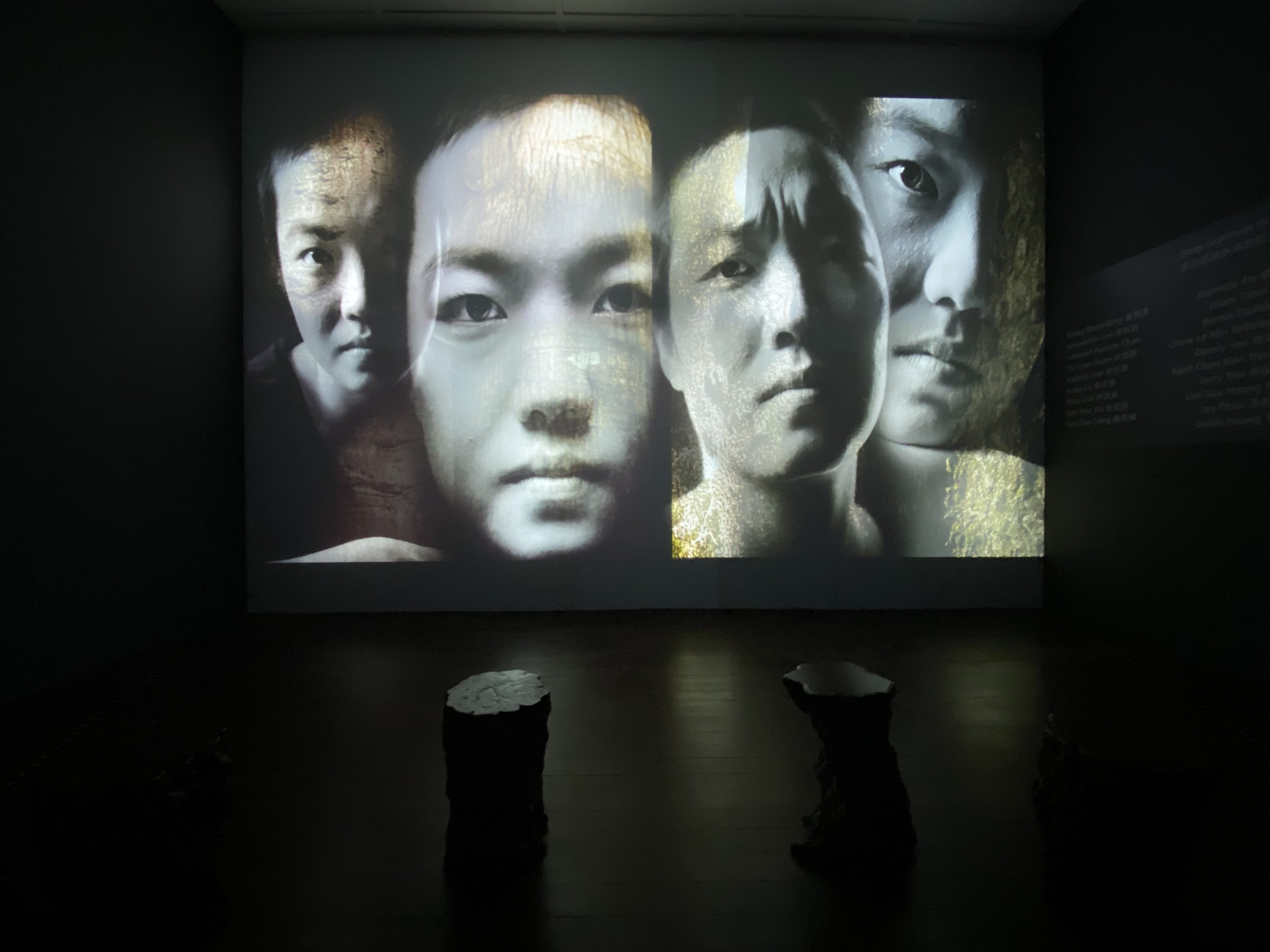 The Temenggong's Refuge
by Lee Chor Lin
The story of the Temenggongs of Singapore renders itself a prototype of the Singapore Story – of turning adversity into opportunities through some good executive decision-making. The Temenggong of Temenggong Road is Daeng Ibrahim. In fact, Temenggongs in Singapore carried in their names their distinguished Bugis ancestry, which is expressed in the honorific title Daeng, which means 'Prince'. One of the most mobile seafaring communities in the island world of Southeast Asia, many Bugis people had been themselves for more than 150 years exiles from Makassar (southwestern Sulawesi), after its capture by the Dutch. Since the mid 17th century, they have been in perpetual sojourning between ports all over the archipelago. Understanding and mastering the art of retreat as a way to advance is deeply seeded in their DNA.
Our Temenggong was the son of Abdul Rahman, the shrewd one who leveraged on a succession crisis in the Singapore-Riau-Lingga royal household to broker the lease of Singapore to Sir Stamford, the equally shrewd East India Company officer and Lieutenant-Governor of Bencoolen. In 1819 this Temenggong and his followers lived around the mouth of Singapore River, but in 1824 they decamped to Telok Blangah (the 'Cooking Pot Bay'), through another bargain with Raffles, who found the Temenggong's company bad for the image and PR of the new settlement.
Daeng Abdul Rahman's son was by all accounts a modernizing leader. Daeng Ibrahim was the young heir who made good the family's ailing reputation, at the brink of possible marginalization (or annihilation) by the ascending Europeans in this part of Asia. He was intelligent, clever and had good business acumen. While the British suspected him of supporting piracy and extortion, he soon persuaded his followers to pivot, turning his control of trade at the river mouths of the region to the lucrative business of gutta-percha procurement. The precursor to rubber, the natural polymer latex from the Palanquium tree native to Sumatra and the Riau archipelago had just been identified as the only ingredient to reliably water-proof underwater telegraphic cables, the first global telco technology to connect the world. Daeng Ibrahim had a near-monopoly during the first decade of the boom. He made a lot of money. He came to control more and more of Johor in the process, working to formalize this through an agreement with the British and the Bendahara of Pahang in 1841, an agreement which laid the groundwork for his son to eventually be recognized as Maharaja of Johor, and later, as Sultan of Johor.
Daeng Ibrahim played host at Telok Blangah to an emerging multiethnic business community, as well as his counterparts and relatives from the Riau-Lingga household. The latter obviously enjoyed leisurely activities in Singapore they could not engage in at home, much to the chagrin of their ministers, who were kept waiting anxiously in Tanjung Pinang and Siak for their royal return. When the Dutch deposed and kicked out the last Sultan of Riau, Lingga and Siak, Telok Blangah was where he took refuge.
Daeng Ibrahim's descendants in the Johor royal family still maintain the mosque originally designed by George Coleman at the foot of his road, and the nearby graveyard. His descendants moved their residence to the plush neighbourhood of Tyresall Road, adjacent to the Botanical Gardens, that powerful symbol of British colonialism. Subsequently they were officially installed in Johor, to be near their prosperous plantation businesses, and where they would claim the seat of kingship. What they left behind in Singapore, the realm of Telok Blangah, would become synonymous with – for newer generations of Singapore city-dwellers – the harbour, large ships, and big dreams.
Daeng Ibrahim left some interesting traces through gifts now at the Victoria and Albert Museum, where can be found the two red silk sarongs, said to be woven in Singapore, which he presented to the East India Company in 1855. In Singapore, the Road and the Mosque and the makam are the last of the Temenggong's legacy, for his palatial homes, Istana Bidadari and Istana Teluk Blangah, remain only as entries in the national database of demolished buildings.
Temenggong Road is a trail-like road that winds up a small hill in the larger Mount Faber complex. Forested, and shielded from the madding crowd, it is lined with just a handful of terraced houses and a bungalow, all on stilts, their verandahs situated on the upper level open on three sides for ventilation and the view (no doubt), and deep balconies to shelter from afternoon sun and heat. These are characteristics of the most sensible tropical architectural form, which the British had nurtured over 300 years in their empire-building enterprise.
An artistic intervention on this hill site inevitably calls for interrogations or more gently, explorations, of the historical trajectory of the place. The three participating artists in the current exhibition show, Expressing Heritage: Transcending People & Time (the second edition of the annual Temenggong-SG-Creatives), various degrees of indifference to Temenggong the man, but an immediate receptiveness to the space and environment of the hilltop bungalow, 28 Temenggong Road.
Wayne Peng
Wayne Peng, one of the most sought-after directors in advertising here believes in the power of aesthetics. He has made his career demonstrating that beauty sells products. "I fear to see the absence of beauty" he would say. Throughout his career he has been able to work with the most arresting landscapes, like the big skies and plateau of Tibet, Taiwanese countryside and rivers, and the most attractive phenotypes – the heartachingly handsome Kaneshiro Takeshi (aka Jin Chengwu 金城武), the evergreen Sylvia Chang, Korean stars Bae Yong-joon, Lee Young-ae, and Singapore's Brad Pitt Chuando Tan.
The hiatus induced by the pandemic must have been a novel experience for Peng. Restless in Singapore, with no large assignments in sight, he gave himself one. Without his usual dream team crew, he shot stills solo with a camera (Canon 5D/ Mark III). Without access to the spectacular landscapes such as those he had shot in China and elsewhere, he zoomed in on close-ups of the trees in Sembawang, Fort Canning, and the Botanical Gardens. Like many struggling to deal with the reality of lock-down, Peng walked long-distances daily. He shot mostly in the morning, around eight, and in the afternoon for the critical light, but also in the mid-day sun to capture spotted shadows cast on the trees. Over three years, Peng became well-acquainted with Singapore's trees, their surroundings and developed personal technical insights about photographing these trees. In the Botanical Gardens, for instance, one could find the most old trees. At Fort Canning, one needs strong core strength and good knees to negotiate the hazardous slopes. He learned this by falling many times. To yield a good stock of images, Peng reckoned he'd walk 10 km every day in his most intensive three months of tree hunting and shooting.
At some point, while ruminating on the images of the plants, Peng saw tree textures turning into semblances of ancient rubbings of bas reliefs and calligraphy. Eventually human faces emerged between the lines and textures. Some of the faces reminded him of an old colleague, movie stars, people in his life, a client, and new friends. To create anew works that would summarise this life of social isolation enforced by the pandemic, Peng resorted to what he knew best – those carefully selected faces of individuals he had filmed, photographed and edited; of those people of his milieu, professional and personal; of those interesting faces that come with compelling life stories. Now that he was unable to orchestrate a situation, summon a crew, audition a cast to do what he does best, including them in his newest process seemed to be the best plausible way to externalize his creative impulse.
Peng's preference for the photogenic faces of his subjects reveals his advertising-influenced aesthetics. The camera lens loves his subjects. They look fabulous and at ease being photographed. Or, perhaps, the delicately calibrated lighting and exposure make these faces perfect portraits for professional CVs and portfolios. He disrupts the perfect phenotypes by overlaying on them the geometry of patterns from the trees. The Chinese title of the work, rumusanfen 入木三分 alludes to strength of artists of definitive qualities, like the Fourth century calligrapher Wang Xizhi 王羲之, from whom this proverb originated. Wang exerted so much force once when writing on wood, his carvers noticed the ink had penetrated three-quarters of the wood's thickness. Peng likens his process to impressing the tree textures onto the photographed faces so hard the two merge as one plane. However, he is careful to preserve the aesthetic integrity of the faces of his friends, his wife, his talents and his colleagues.
The result is a series of sleek montages of camera-friendly faces captured in multiple-angles, as if to represent the trichotomy (or more) of a personality. Sometimes two or three faces are juxtaposed, inviting the viewer to guess and to conjecture their relations (or none at all) in reality. Words of poetic cadence, recited in Mandarin, English, Japanese and Korean, to a background of guide tracks culled from the high Romantic and Impressionist (Rachmaninoff, Ravel, Mahler) and contemporary New Age (David Darling, Brian Eno), aspire to enrich with depths of emotion and intelligence these snapshots of human manifestation and the powerful symbol of nature. Peng's work is a filmic homage to time and solitude, a yearning to transcend the humdrum of glitz and polished aesthetics, and an attempt to return realism to its rustic origin — fanpuguizhen 返璞歸真 — a motto advocating simplicity and minimalism for bespoke quality in the world of sophisticated marketing and persuasion.
Richard Hassell
One often associates trees with perpetuity, assumes trees exist long before us, and forgets that trees too are prone to disruptions, more often than not, caused by human action. Richard Hassell is very aware of this fact of tree life. To create his work, Hassell sought inspiration by ploughing through online archives in search of images of Temenggong Road and its extended vicinity. He found out that a great part of the forest we see today had sprung up after multiple clearings since the 19th century. As one of Singapore's leading architects, Hassell's approach to the project assignment is intuitively informed by his architectural profession and a life-long practice of painting and drawing.
Unlike Wayne Peng, whose projection requires the porous room to be concealed from light by making a cocoon within the space, Hassell's affinity with the tropicalized European architectural sensibility leads him to jive with the punctuations and porosity of his assigned room. Perched on the hilltop at the end of the winding road, the majestic bungalow commands a view of the island's southwestern coast, composed predominantly of the sea of tree canopies of Telok Blangah, Radin Mas and Mount Faber. The thick vegetation occasionally lets slip glimpses of heavy industrialised steely contraptions of the container port and the cable car structure that laced the often overcast sky above the Straits of Malacca.
This part of 28 Temenggong Road is infused with a resonance of history, as one looks out of the large picture windows: islands dotting the waters between Singapore and Sumatra, those of the former kingdom of Riau, from which the Temenggong broke away with the sale of Singapore, and the busy seafaring traffic once of outriggers, junks and galleons, but now of giant cruise ships, container carriers and ro-ros. But Hassell wants to see beyond the present. With information he found through his research, the vision of 28 Temenggong Road is retrospective, populated with personages – living, historical and imagined. More of the imagined, as he exercises some artistic license and imagines the what-could-have-been.
Hassell comes from a family of Sunday painters in Perth, Australia. He grew up painting and drawing with parents and an aunt who are accomplished in oil and watercolour. Like many precociously artistic children, Hassell started to draw, obsessively, he would tell us, at the age of three. He harboured dreams of becoming an artist. The impulse stayed with him, even though he chose eventually to be an architect.
His work for Temenggong, In Camera, is a series of drawings, in wallpaper size, of people, creatures and situations reinterpreted and reimagined, as if to re-boot an invisible memory bank of the house and the gaze from the house. One vivid character, who obviously tickled Hassell pink is Admiral Keppel, after whom the nearby road is named, and who wore heels to prop up his small physique. A woman of the early 1960s, zipping up her New Look skirt wearing a bra, is modeled after a photograph of British models dressing up backstage in a fashion show. The most poignant image is perhaps one of a Malay (or Bugis) man, who, in the original August Sachtler photograph taken before 1876, contemplates his view of the Telok Blangah village and hilly lands, as if for a last look before they made way for the New Harbour (hence Tanjong Pagar) and Keppel Road. In this 21st century ahistorical and anachronistic presentation, Hassell re-installs all these personages side by side, regardless of their social status and historical context.
Digitally printed in large-format sheets of Japanese mulberry paper (kozo), the tableaux are produced in exact dimensions, meticulously measured. They were first rendered in architectural drawings to determine the positions and to test-run the envisaged simulated effect in the room. In the actual exhibition, these sheets of wallpaper are mounted on the walls of the assigned room, so that the actual views seen and framed by the windows interact with the imaged scenes. They are not trompe l'oeil to play hide and seek with the viewers, but rather a device to let the weight of history settle, and some of the ironies to stir the tranquility. Such is the effect of art.
The precision in composition is made possible by Hassell's method, as he has been rehearsing with vector drawing on the iPad. Perhaps an occupational hazard, as the architectural design process often effects simulations rendered to help visualization, Hassell is enamoured with technology-aided visualizing techniques. He enjoys the speed and results he sees in vector drawing, as it brings about so closely the way his strokes would normally effect on graphite and paper. Designing repeated geometric patterns for trellises and lattices as surface decorations or to conceal unsightly necessities in his architecture, Hassell has already successfully played with tessellation algorithms to create his signature lattice patterning on many of his recent architectural designs. This time, the iPad is opening up new possibilities and has given Hassell immense pleasure, so much so he draws like a fervent Sunday painter, one who works, ironically, overtime, with every sliver of spare time. Nevertheless, measurements and the first layout sketches are hand drawn in efficient architectural drafts in his Moleskin.
The clever insertion of these scenarios, researched and imagined, usher one to look beyond the presence, and to enter a dimension of lines, shadings, conjuring up reality-based imageries, their timelines irrelevantly shuffled. They add to the warmth already in situ from the wooden structures and antique furniture. Once snuggly installed in the space, the viewers may feel surrounded by a Simpsons like animation, compelled to venture into their own narratives with Hassell's vector-sketched characters, or they may choose simply to space out at the mélange of the real out there and the art right here. Only then, will House Number 28 cease to be a relic, becoming an active space of creation where one could re-negotiate with the past.
Kelley Cheng
Two written works, each seminal in its own field, are attributed to by Kelley Cheng as the sources of inspiration for her installation, City of Embong: Prose of Counterinsurgency. These are the iconic novel Invisible Cities by the Italian Postmodernist Calvino Italo and "The Prose of Counterinsurgency" by the Subaltern Studies Group historian Ranajit Guha, pioneer proponent of writing history from the perspectives of the underprivileged and under-represented.
A graphic designer and architectural commentator, Cheng's work is a visualisation of a series of social issues she perceives as impediments to human progress. These issues are encapsulated in six poems she wrote, each representing a characteristic element of the fictitious city she has created. In line with the structure of Invisible Cities, Cheng's city is named after a woman, Embong, and which she intends to be the 56th 'missing' city that might be read as the continuation of Calvino's open-ended discourse on the 55 cities between the magnificent Mongol ruler Kublai Khan and the great Venetian traveller Marco Polo.
Much fired up by the currently heated discourses on postcolonialism and decolonization of history and historiography, Cheng questions the legacy embedded and inherent in the post-colonial experiences of the former British colonies, such as Singapore. Among many things, Cheng is particularly anxious about the way Asian languages have been replaced by functional English and the large-scale demographic dislocations caused by armed conflicts, dysfunctional governance and economic failures.
The experimentalism and imagination so beautifully deployed in Invisible Cities form the blueprint of Cheng's approach in this installation. The troubling and complex issues she wants to deal with are expressed as silo-shaped towers of this imaginary city. Her tone however departs from the Italian writer's, as she has chosen a device she learned from the historiography of the 'counterinsurgence,' that is to re-tell stories from the perspectives of the marginalized, the victimized and the helpless. To extend this literary and text-based exercise, Cheng celebrates common people and living creatures who thrive in the confines of small spaces and on single-mindedly focused tasks, with Wordsworth's deftly crafted sonnet Nuns Fret Not at Their Convent's Narrow Rooms.
Unlike those of Peng and Hassell, Cheng's work is concept-heavy and relies on a secondary fabrication process, in the way of most architects and designers. To her, it is a natural and preferred mode of production. In fact, from a young age, Cheng has been designing objects for school projects and class work. Her designs would then be constructed and realised by her father, who ran a car workshop and was good with his hands. Once she could read, she engrossed herself in the fantastic world of Chinese martial art novels, often read on rental from roadside kiosks. Later on, Japanese manga formed the staple of her pictorial-literary excursions.
Cheng's artistic intention and textual references should be read as a guide to her otherwise quirky and irreverent commentary on the relationships between individuals and the State. The installation is a complex of built-form models, fabricated with plywood and paint colours by trusted exhibition builders. Each of the six poems is inscribed like an exhibit label, and ascribed to one of the series of vertical tower-like structures, suggesting generic cityscapes in many contemporary metropolises.
Each poem carries a deeper anxiety. Poem 1 "Tower of Lines" is ascribed to a black box with vertical lines, suggesting that all those lines demarcating boundaries and rules one should not trespass and break. In Poem 2, Tower of Geometry Control (the Temenggong), Cheng transforms the Man from one who re-negotiated new game rules in his fast-changing world to one who watches for violations. With an abstract oval head and triangular protrusions on the side, Temenggong's tower looks like a formidable being, arms on hip, measuring the vast extent of his control's reach. Poem 3, Tower to Nowhere, is envisaged to be a forbidding building, which, as one enters, offers no way out. Poem 4, Tower of Ivory, in four Telly-Tubby candy bars, is about the loss of linguistic diversity that a multiethnic society should manifest. The structure for Poem 5, Power of Generator Factory, looks strangely familiar as Marina Bay Sands Resort on the island's bay front, is a commentary on the armies of migrant workers, who are so visible in major cities but inaudibly silent. Poem 6, Twin Tower of Loneliness, laments the pain of love that is socially perceived as forbidden, like Rapunzels incarcerated in medieval towers with turrets, set far apart and never meeting. Cheng's happier freedom seekers are visualized as smaller structures, standing under the gaze of the towering others, each bearing a verse from Wordsworth's sonnet, and each equipped with wind turbines, as if powering up in readiness to take off when the state of self-content is threatened.
In filmic projection, wallpaper tableaux, and installation, all three artists participating in this latest presentation at Temenggong Artists-In-Residence have explored at the ends of landscape as artistic form — Peng forsaking the scenic to zoom into close-ups of natural forms, and impressing them on human faces; Hassell creating a historical landscape, interposing human figures from different time-periods, and Cheng designing an alternative urban landscape, where human social problems and difficulties are potentially worked through and expressed in built form. This taking landscape to its end points is appropriate for an arts centre set in Telok Blangah, the home of the Temenggongs, a place where Singapore's landscape is most clearly imagined, not as a territory rolling out across a map, but as an archipelago of connections, where Singapore seems most clearly part of the island world of Southeast Asia.
ABOUT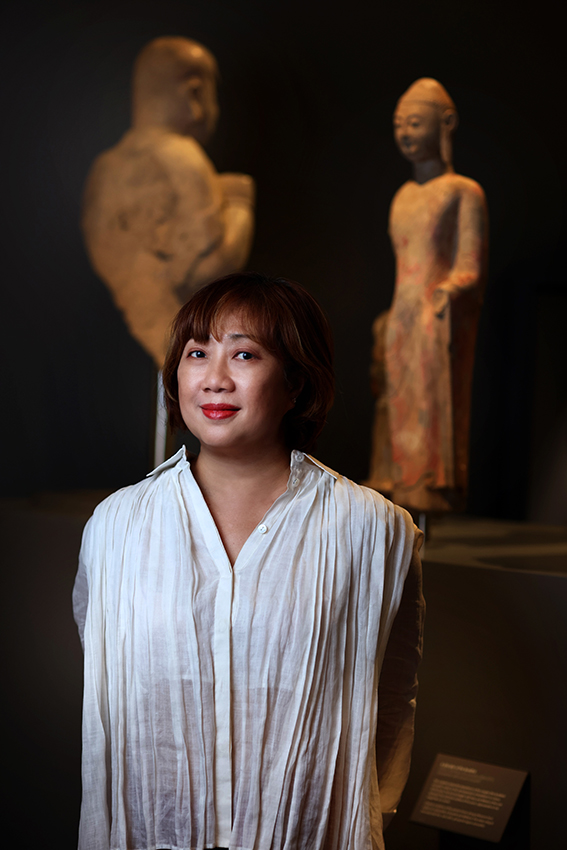 Lee Chor Lin began her museum career in 1985 at the National Museum of Singapore. She was senior curator of the Asian Civilisations Museum between 1993 and 2002. As Director of the National Museum, 2003 – 2013, she redeveloped the museum, revitalized its displays, programmes and the presentation of Singapore history. Her work radically changed the museum scene in Singapore. Lee was CEO of Arts House Limited (2013 – 2016), which ran the Singapore International Festival of Arts.
Lee currently works independently and selectively, researching and writing on prewar Singapore Chinese artists, Indonesian Chinese diaspora in batik trade, and food writing as a cultural memoir in modern Chinese literature. Since 2009, Lee writes a periodic Sunday opinion column for Lianhe Zaobao, Singapore dominant Chinese daily. She was the curator of the exhibition Batik Kita: Dressing in Port Cities at the Asian Civilisations Museum (2022).
For her work in the arts and museum, Lee was conferred Chevalier de l'Ordre des Arts et des Lettres by the French government in 2009 and Cavaliere, Ordine della Stella d'Italia by the Italian government in 2012.